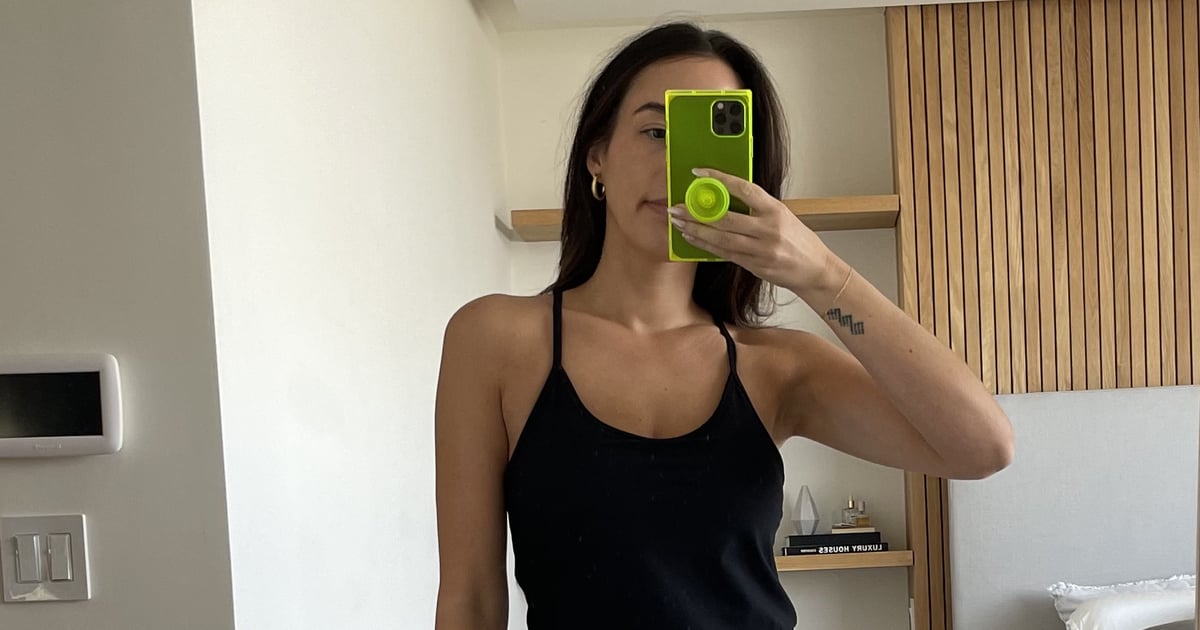 PowerSoft Performance Sleeveless Dress Review Old Navy
Over the past few months, I've noticed a trend on my TikTok FYP. I've seen tons of people wear black sports dresses and show off the many ways they can be styled. I recently started taking "hot girl walks" every day, and although I usually only wear leggings and a sports bra, after seeing so many cute sports dresses on TikTok, I knew that I had to buy one. The only downside? All of the options I kept seeing online were well outside my price range.
Last month, I decided to double down on my search and finally found an affordable option that was just as cute as the more expensive ones: the Old Navy Sleeveless PowerSoft Performance Racer-Back Flare Mini Dress ($45 ). As soon as I received it in the mail, I knew it was going to be a winner. The material was soft, the length was perfect, and it looked 10 times more expensive than it actually was. For all the details on my new favorite dress and ideas on how to style it, keep reading.
What I like about this Old Navy dress
I've always loved dresses because in my mind, it's a "one and done" outfit. There's no need to think about matching your top and bottom pieces because once you put on a dress, you're ready to go. This dress is no different, and I love that it can easily be dressed up or down and worn for a range of different activities. Plus, it's more than comfortable. The material feels like butter and it's comfortable enough to wear all day. I even wore it on a six hour car trip to Los Angeles and had no issues.
My favorite way to wear this dress has been with a pair of sneakers or sandals and a white button up top. I love that the addition of the white buttonhole makes the outfit look sleek and chic. When I go for a more casual look, I put a sweater or sweatshirt over my shoulders and usually put on a baseball cap as well. No matter how I wear it, I always get a ton of questions about where my dress came from and people are always surprised to learn how affordable it is.
What is worth noting
This dress is more fluid than tight. I wear my typical XS, but it still feels roomy on me. If you are looking for a tighter fit, I would definitely suggest downsizing. Otherwise, you're probably safe choosing your usual size. The dress also has over 650 reviews on the Old Navy website, with tons of photos you can check out if you want to see the dress in all sizes.
Who is this dress for?
I think this dress is a great addition to anyone's wardrobe. It's the perfect outfit to pair with sneakers and wear on a daily hot girl walk, running errands or even working out. It's versatile, so I love being able to swap my sneakers for a pair of sandals and wear this dress for brunch with my girlfriends. I would recommend it to anyone!
Additional Details
This dress is available in sizes XS-4X as well as regular, large and small.
It has a comfortable built-in bra with adjustable straps.
The fabric is made of 77% polyester and 23% spandex. Instructions say machine wash cold on gentle and hang to dry. I followed these instructions and my dress is still in perfect condition.
The dress is available in six different colors: black, pink, green, white, light blue and black leopard print.
Evaluation:

Image source: POPSUGAR Photography / Renee Rodriguez