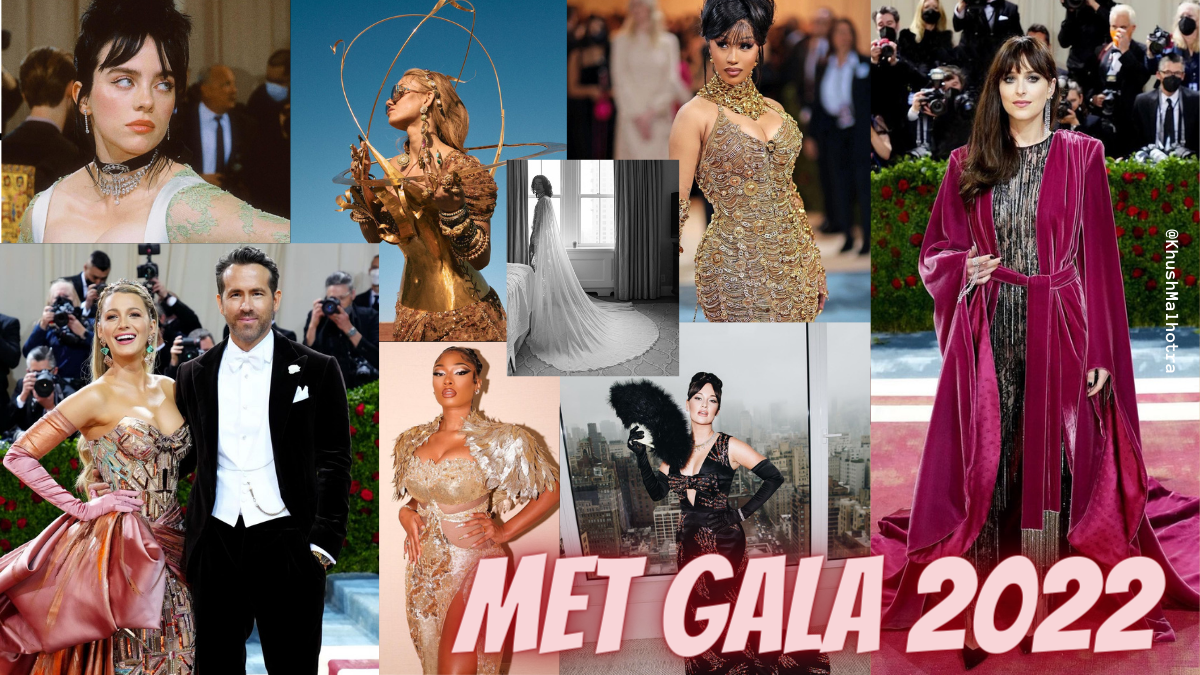 Met Gala 2022: Which celebrities got the right assignment?
On the first Monday in May, the Met Gala, the massive and fanciest themed party of the year, takes place at the Metropolitan Museum of Art in New York City. Several stunning looks have graced the Met Gala red carpet in 2022, as it is one of the biggest annual events in entertainment and fashion. The theme for the 2022 Met Gala was "Gilded Glamour," which everyone looked forward to and left with a blown mind.
Golden Age fashion was graceful and sophisticated due to the booming economy and prosperity of the northern United States in the late 1800s. clothes were elitist, distinguished, elegant and magnificent. Therefore, without further ado, let's put on our fashion hats and move on to judging which celebrity won the Met Gala 2022 assignment.
Blake Lively and Ryan Reynolds
Blake Lively and Ryan Reynolds are indeed one of Hollywood's most beloved power couples. They are definitely a heavenly match with their alluring characters, alluring charm, modern fairytale-like love story, support system, and excellent spirit to complement their splendor. Yes, as if it were two peas in a pod.
They've done a tremendous job taking center stage as co-chairs of the 2022 Met Gala with their electrifying and dynamic ensembles, and we're head over heels in love. Ryan Reynolds looked incredibly dapper and tidy in his crisp velvet suit, while Blake stole the show and made everyone turn around for another glimpse. Blake Lively donned a long, hot pink Atelier Versace copper trailing maxi dress with a huge side bow, and her outfit intensified the 2022 Met Gala's "Gilded Glamour" theme with such a deep and empowering concept.
She was inspired by the extraordinary New York, the city of diversity and dynamism. From the Empire State Building to the constellation-painted ceilings of Grand Central Station and New York's landmark, the Statue of Liberty, she paid homage to these fabulous architectural beauties of the city with a touch of grandeur. However, she rocked things halfway by cascading the bow in a dazzling blue-hued skirt and twirling it around like a Disney Princess.
"It's a love story, baby just say YES!"
Blake has consistently served us the most iconic and unforgettable Met Gala outfits over the years (we still haven't finished her 2018 supreme queen look), and if it was a ball, she would be the queen. We love that she honestly cares about making her dresses look like museum-worthy works of art, and her commitment is admirable.
Blake also shared some behind-the-scenes secrets on how she created her stunningly gorgeous look.
Many unsung heroes helped her prepare for the big night, and she, being the humble queen that she is, was grateful to each of them and acknowledged the efforts of her "Dream Glam Crew" in them. saluting. She completed her stunning immaculate nude glam makeup using Charlotte Tilbury products and accessorized it with long gloves and matching chandelier earrings.
"Me! I am a Virgo. Yes, we can totally relate to you, Blake. Perfectionism runs in the blood.
Hail to the eternal Serena Celia Van Der Woodsen.
dakota johnson
Dakota Johnson, known for her impeccable, almost stunning elegance on the red carpet and her beautiful innocent smile, walked the runway at the 2022 Met Gala, wowing everyone. She's always brought us the most sultry styles in town, from sheer corset jumpsuits and pearly white satins to bejeweled dresses and feathery shawls.
Dakota dazzled 50 Shades of Beauty with her theatrical appearance on the red carpet, donning a Gucci sheer lace catsuit adorned with beaded silver fringe and layered over a draped burgundy velvet dress. She finished her look with black patent pointed toe pumps, sparkly earrings, glam smokey eyes and signature fringed hair. Catsuits are all the rage right now, and this futuristic spin on "Gilded Glamour" was a definite hit.
Alicia's Keys
Alicia Keys, 15-time Grammy Award winner and one of Hollywood's most talented celebrities, showcased the New York skyline on the 2022 Met Gala red carpet. The 2022 Met Gala Set by Alicia Keys was an ode to the beloved city in her "New York State of Mind." She donned a shimmering black and silver crystal-embellished Ralph Lauren dress with a stunning floor-sweeping cape on which the New York skyline is embroidered. It adorned the dramatic yet exquisite set with over 200,000 crystals, intensifying its look and theme to another level and leaving everyone amazed.
Cardi B
Gilded Glamor meets Versace meets the Bronx. Cardi B looked like a shimmering golden goddess in her Versace ensemble, curated by famed Italian fashion designer Donatella Versace and her team, who spent over 1,300 hours working on her complete look for the big night. To say the least, their efforts paid off well as she walked the red carpet looking fierce, strikingly beautiful, extravagant and gorgeous.
Kacey Musgraves
It's the perfect time to sing and hum with us… "because I can't help falling in love with you," while adoring Kacey Musgraves' timeless beauty, regal and vintage look on the 2022 Met Gala red carpet. Kacey attended the 'In America: An Anthology of Fashion' exhibition opening in a black bodycon dress adorned with silver Prada. The set let us see "Gilded Glamour" in the late 1800s through the lens of 1960s "Elvis." She won hearts with her flawless look, which included a stunning mix of De Beers jewelry and retro makeup.
Ariana DeBose
Ariana's look and our feelings can't be better summed up than what she said herself, "I had several moments of absolute silence offset by an enormous amount of gratitude, communicated verbally with an inordinate amount of thanks." American fashion designer and creative director of fashion house Moschino, Jeremy Scott, did an amazing job curating this Met Gala look that was nothing short of amazing. It's "Gilded Glamour," it's fun, and it's statuesque beauty that brought Ariana to center stage.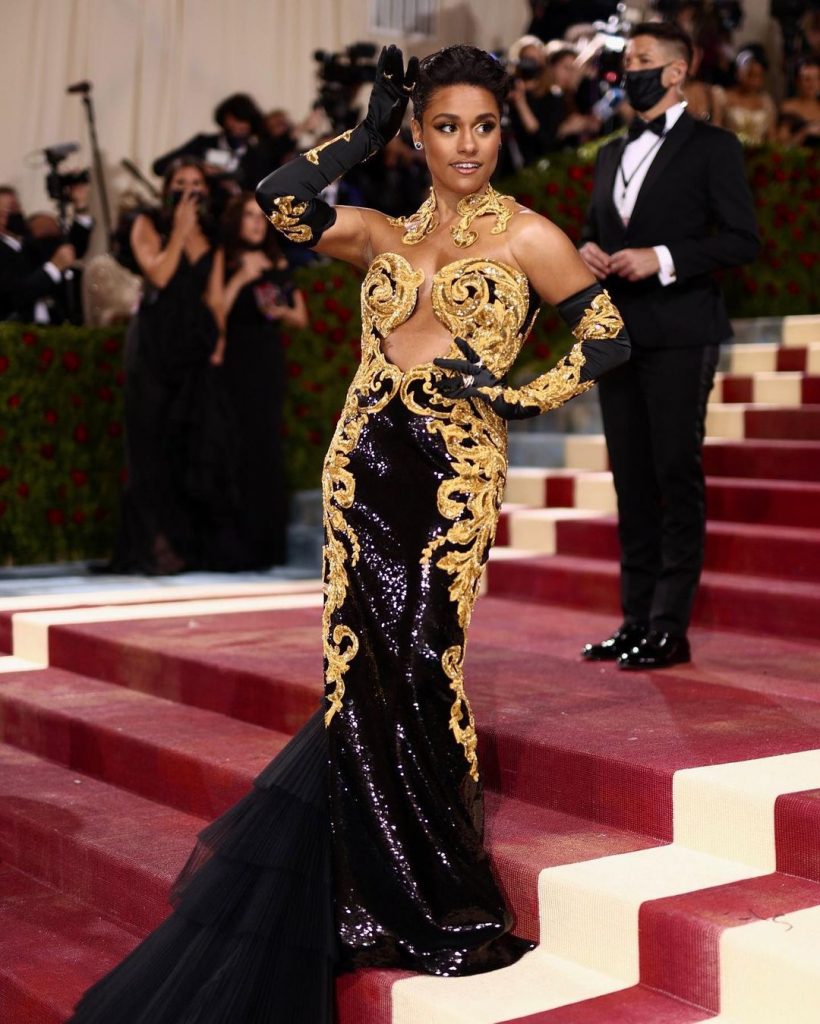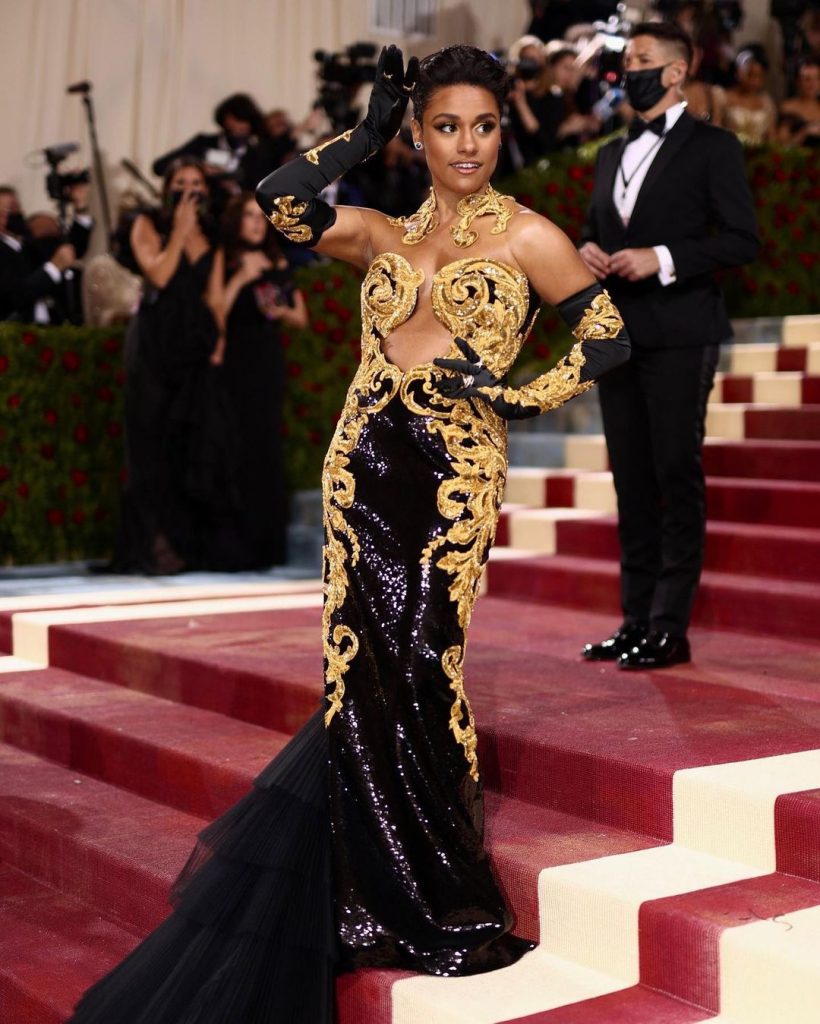 Billie Eilish
Billie Eilish wore Gucci to accentuate her "Gilded Glamour", taking inspiration from the 1885 painting "Madame Paul Poirson" by John Singer Sargent. With her custom recycled dress and fitted heels, she was undoubtedly one of those celebrities who got the Met Gala 2022 assignment right. Billie Eilish wore a custom recycled Duchess Gucci satin corseted dress designed by Alessandro Michele , with a lace underlay, a ruched Duchess satin skirt with a padded bustle and a tonal Duchess bodice. She finished her look with an ornate choker and a fancy updo, matching the era.
Conan Gray
Conan made his spectacular Met Gala debut in a stunning sheer silver suit by Valentino, honoring his vow to give it his all. He looked flawless in his attire, embellished tulle with long silver bling pants, accessorized with a long flowing cape, loose curly hair and white high platform heels. Conan captured the essence of the Golden Age perfectly with such elegance and a touch of glamour.
Lizzo
It's 'About Damn Time' (yes, pun intended) for you to recognize Lizzo's many talents outside of just singing, as she emerges as one of the most seductive and fashionable women of 2022. Lizzo looked regal in a black and gold Thom Browne ensemble, and everything about the outfit just stole our hearts. Everything complemented her lively style and confidence, from the massive black cape with gold embellishments to the $55,000 flute corset-style dress, making her stand out from the crowd.
Megan you stallion
Megan Thee Stallion has taken our breath away every time she walks the red carpet, and the 2022 Met Gala fits the bill perfectly. Megan looked lavishly encrusted with sequins, glass beads, crystals and stones in a custom-embroidered metallic Moschino strapless bodycon dress with a long train, side cut-outs and slit detailing. He was absolutely stunning and looked elegant and chic, with glamorous makeup and a feather shoulder cape that echoed the feather tones worn by many well-to-do women throughout the Gilded Age.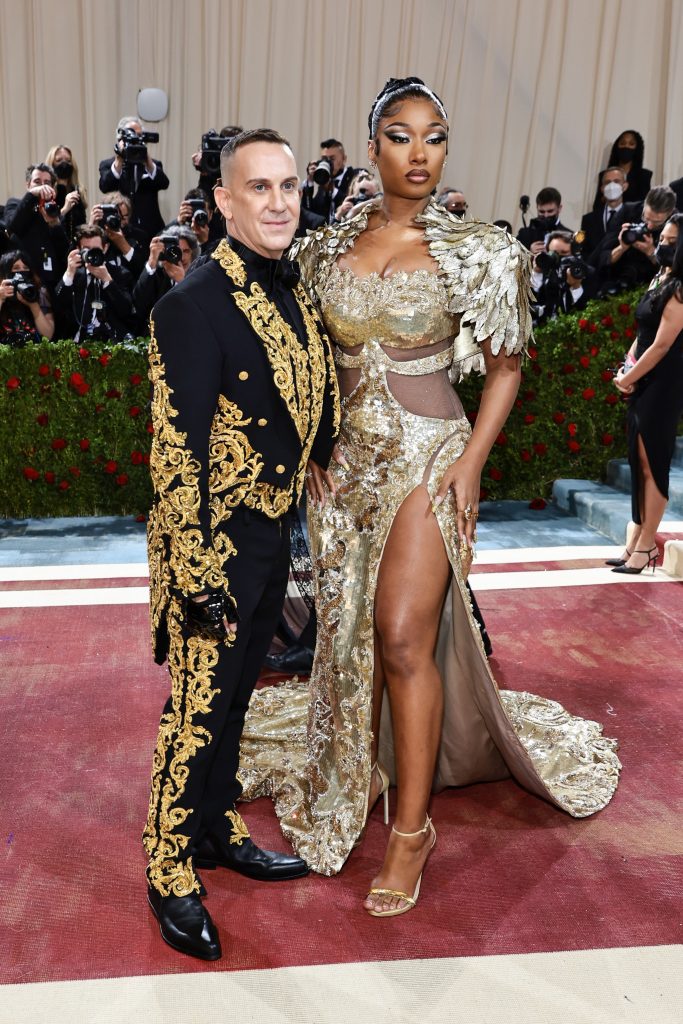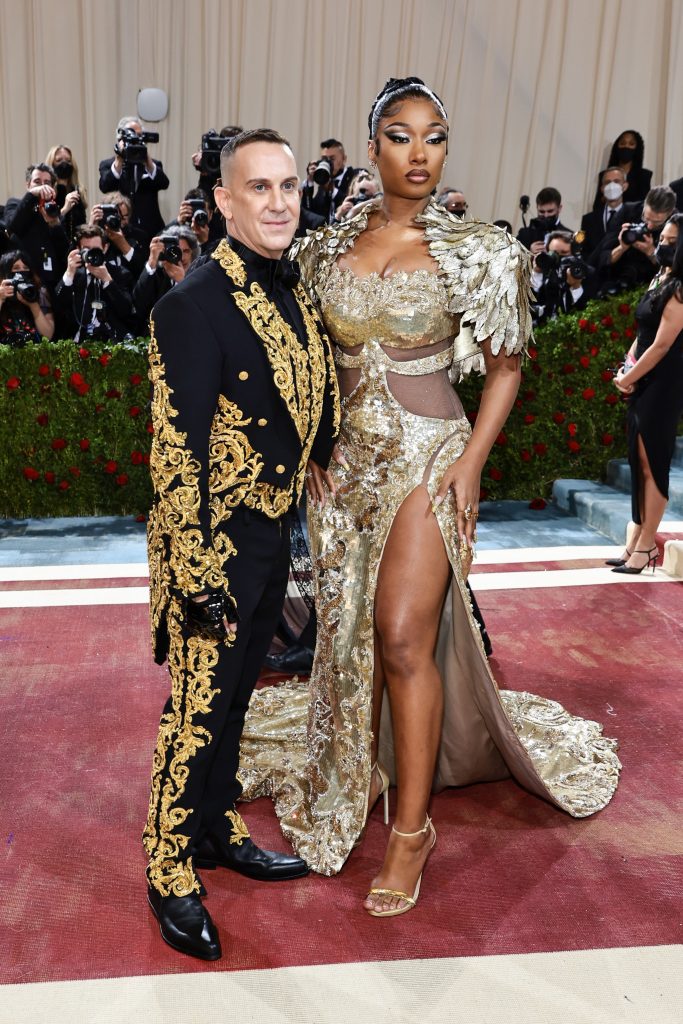 Natasha Poonawalla
We can only describe this gold Natasha Poonawalla ensemble as GOD! Heavenly divine — truly, profoundly and gloriously divine! It was a smart approach to amp up the golden look by incorporating traditional Indian influences with this delightfully embellished saree from Sabyasachi, a world famous fashion designer. Natasha looked like a golden sculpture draping this gorgeous bespoke golden Sabyasachi saree with gold corset-style armor with astronomical vibes, accented with glamorous make-up, jewellery, bracelets and manicure to match.
Check out the full look below!
ROSALIA
ROSALÍA channeled her Givenchy greatness by wearing a bead and sequin embellished fitted corset with a voluminous tulle skirt and large hoop earrings at the 2022 Met Gala. She undoubtedly snagged our hearts and turned heads at the event , awarding her a 10/10 for her elegant, sophisticated and rich look.
Which celebrity won you over with their appearance at the Met Gala this year? Tweet us on @CelebMix to let us know your thoughts!